Start Mobile Register
Start is a mobile fiscal cash register for accepting card payments, with an integrated printer. It is the result of our years of experience in creating cash register software and payment solutions, in its simplest and smallest package.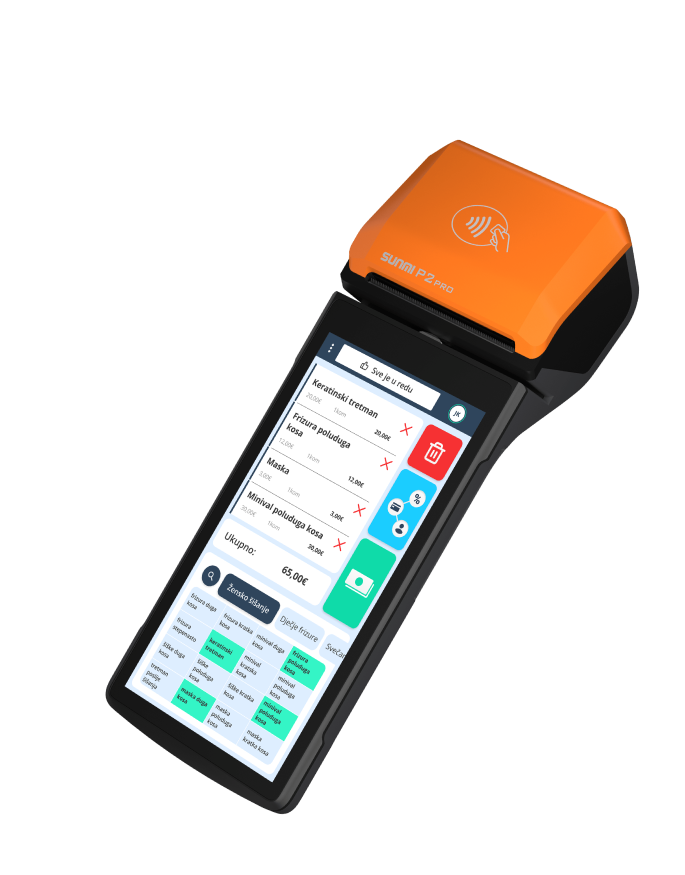 Mobile
cash register and POS terminal in one device
1
Card payments from 1.5% per transaction
Mobile fiscal cash register with a card charge of 1.5% per transaction, ready to use whenever you need it
2
No opening new accounts
Introduce card payments with no need to open new bank accounts, earnings are paid out to your existing account in any bank in the Republic of Croatia
3
Buy or rent a register
Choose between buying or renting a cash register, with short- and long-term rental options
Start with

card payments

!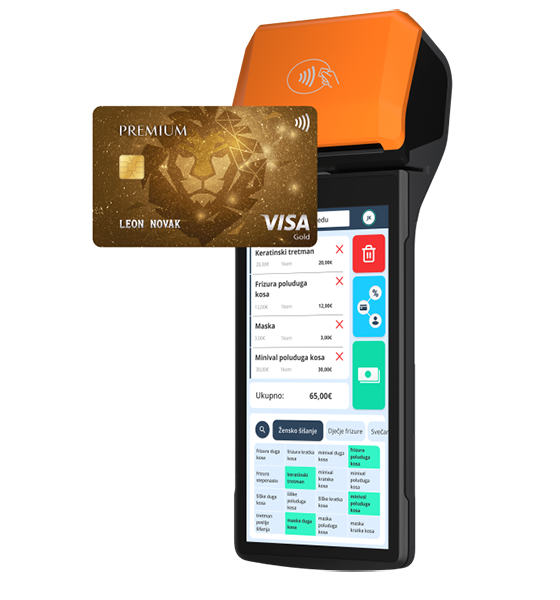 Card fees from as little as 1.5% per transaction

The fastest way from making a sale to money in your account, in any Croatian bank

Paying in installments is available as an optional cash register upgrade

You will receive detailed information about fees and terms of card payments from your sales representative
Where can you use Start?

Wherever you want!



Start is ready to use at any location where you need to charge for your services, be it repairing the air conditioner in a client's apartment, charging for deck chairs and umbrellas on the beach, or entry to visit a tower on a mountain.

We've taken care of how you'll charge for your services, it's up to you to decide where that will be!
Easy to use
Start comes to you ready to use, so no setup is required before you charge for your services for the first time.
Transparency
Log into your admin interface to easily check your accounts, traffic and reports. You can also give access to your accountant!
A reliable system
No data is stored on the device, but in the cloud, so you can be sure that your business is safe, even if the cash register is physically damaged.
Professional support
Our team successfully resolves most problems over the phone, but if you need a service technician to go on-site, we will send an associate to any location in Croatia.
Cash or card
Start comes ready for card payments, but you only pay when you use it, a pre-agreed percentage of each transaction.
Regular account or R-1
Imate klijente kojima treba R-1 račun? Nema problema! Spremite njihove podatke u sustav za brže izdavanje računa.
Wi-Fi or mobile internet
If you're using Start in a location with a reliable Wi-Fi network, great. But if you need to top up on a desert island, you can use any operator's SIM card!
Paper or e-mail invoices
Customers don't want to carry around paper invoices, but still need an invoice for their records? E-mail them the invoice straight from the cash register!
How to get your Start?
1
Fill out the contact form
Fill out the contact form at the bottom of the page to get more information about Start. After talking to our sales representatives, order your mobile cash register.
2
Provide the information
Provide us with the information we need to set up your cash register, such as your billing company, operator, and what items you'll charge for.
3
Connect Start to the Internet!
Start is delivered to you ready to use, with all the information you need to issue an invoice at the cash register – all you have to do is connect it to the Internet!
4
No need for new account
You'll receive the income from card payments to your business account, in any bank in Croatia, without needing to open a new account!